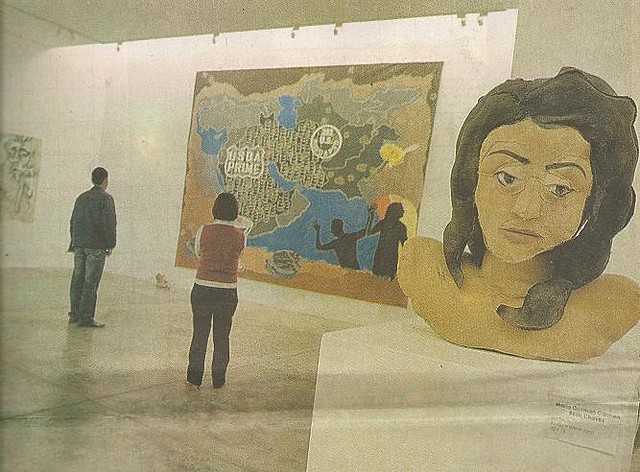 ?
Obras de gran formato y esculturas forman parte de esta interesante exposici?n
Large-scale works and sculptures are part of this exciting exhibition
?
Propuestas de creadores de Houston ofrecen una variedad de tem?ticas y estilos. Son 28 pintores de gran calidad que exhiben trabajos en soportes de lona
Houston creators proposals offer a variety of subjects and styles. There are 28 high quality artists exhibiting works on canvas
?
?
Como un inmenso lienzo de propuestas art?sticas frescas en innovadoras llega a Trujillo la exposici?n denominada " Texas cae sobre un trozo de tela", que se exhibe en el Museo de Arte Moderno de Trujillo. La muestra colectiva refleja sobre soportes de lona de diferentes tama?os, sin marco alguno, el trabajo de 28 artistas de Houston, Estados Unidos.
Like a huge canvas of artistic fresh and innovative proposals an exhibition entitled "Texas falls on a piece of cloth" reaches Trujillo, at the Museum of Modern Art of Trujillo. The collective exhibition on various sizes of canvas, without any frame, shows the works of 28 artists from Houston, USA.
Son pocas las veces que el p?blico trujillano tiene la oportunidad de apreciar el trabajo de artistas extranjeros. La mayor?a de exposiciones que se realizan en el ?mbito de la ciudad comprenden obras de nuestros artistas locales y nacionales, y muy de vez en cuando a pintores de pa?ses vecinos. En ese sentido el colectivo estadounidense que exhibe sus trabajos en nuestra ciudad nos trae una diversidad de trabajos ricos en su forma de expresi?n de formas y de colores que caracterizan un trabajo inquietante, intenso y colectivo.
There are few times that the audience from Trujillo has the opportunity to appreciate the work of foreign artists. Most exhibitions held in the area of the city include works of our local and national artists, and every once in a while painters from neighboring countries. In this sense, the American collective that exhibit their work in our city brings a rich diversity of work as the expression of forms and colors that characterize a disturbing, intense and collective work.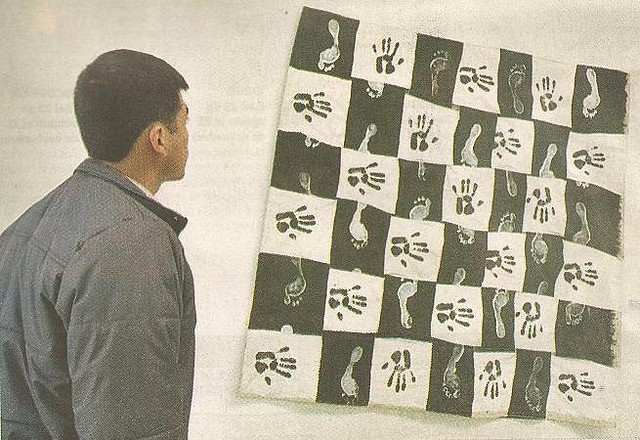 Los artistas de Houston confrontan al espectador
Los artistas de Houston confrontan al espectador

?
"La importancia de esta muestra es que son 28 maneras de ver el mundo. Cada artista es un universo y esto es importante para nuestros artistas porque es una especie de gu?a de lo que est? pasando actualmente en Estados Unidos y eso enriquece a los artistas locales", refiere el pintor Gerardo Ch?vez. En efecto, en la exposici?n se nos abre una ventana a perspectivas creativas diferentes a las que suelen verse en nuestro medio. Es la visi?n de pintores de un estado fronterizo con M?xico cuya cosmovisi?n se ve reflejada en las lonas que sirven de soporte a las im?genes.
"The importance of this exhibition is that they are 28 ways of seeing the world. Every artist is a universe which is important for our artists because it is a kind of guide to what is currently happening in the United States and that enriches local artists " as said by artist Gerardo Chavez. Indeed, the exhibition opens a window into different creative perspectives that are often in our environment. It is the vision of artists from a state bordering Mexico whose worldview is reflected in the canvases that support the images.
En ese sentido refiere que tambi?n es un importante referente para que el p?blico trujillano pueda apreciar las novedades de las artes pl?sticas que se desarrollan actualmente en Houston o Nueva York. Sobre los expositores el pintor liberte?o refiere que son "artistas notables" de gran trayectoria en Estados Unidos, donde poseen en su haber numerosas exposiciones personales.
In that sense he refers that it is also an important reference for the public from Trujillo to appreciate news from the arts that are currently being developed in Houston or New York. About the artists Mr. Ch?vez said that they are "notable artists" of great experience through the United States, where they have to his credit numerous personal exhibitions.
Universo ecl?ctico (Eclectic universe)
Los trabajos de los artistas texanos tienen la virtud de integrar elementos hist?ricos y geogr?ficos del estado fronterizo con M?xico con iconos de la sociedad contempor?nea. El resultado es una explosi?n de formas, colores y tem?ticas que van desde el arte naif, lo surreal, con matices del pop art y arte conceptual.
The works of these Texan artists have the power to integrate historical and geographical elements from their State wich borders with Mexico with icons of contemporary society. The result is an explosion of shapes, colors and themes ranging from naive art, the surreal, with nuances of pop art and conceptual art.
As? por ejemplo, jefes indios, Buffalo Bill, granjas, aviones, tornados y hasta un aviso de Mc Donalds se mezclan en la obra de Bryan Wheeler, ?Study for good sport #2?. Algo parecido es lo que aborda Jeffrey Wheeler en un lienzo donde los elementos recurrentes son tambi?n Buffalo Bill, el ganado texano, el desierto e iconos que se remiten al pasado de este estado norteamericano.
For example, Indian chiefs, Buffalo Bill, farms, airplanes, tornados and even a banner from Mc Donalds are mixed in the work of Bryan Wheeler, "Study ?for good sport # 2." Something similar is what Jeffrey Wheeler addresses on a canvas on which the recurrent elements are also Buffalo Bill, the Texan cattle, the desert and icons that refer to the past of this American State.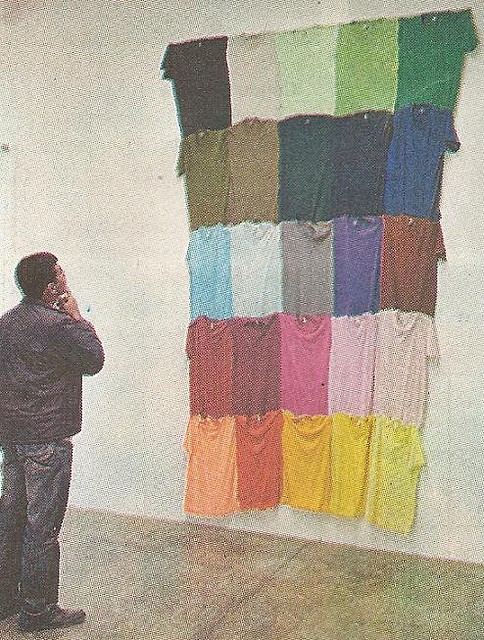 Brian Rod, en ?Tees?s? utiliza polos de colores para crear un mosaico que quiz? intenta hacerle un gui?o a la moda. Michela Muserra en ?Laughing out loud? (Riendo a carcajadas) juega a lo l?dico con un bebe ?punk? que luce feliz en lo alto de un ?rbol mientras ?emoticones? y diamantes giran a su alrededor.
Brian Rod, in "Tees's" uses color T-shirts to create a mosaic that may try to make a nod to fashion. Michela Muserra in "Laughing out loud" with a baby 'punk' that looks happy on top of a tree as 'emoticons' and diamonds circle around him.
En un estilo aparentemente naif W. Tucker registra en ?Elephant and two blue head? (Elefante y dos cabezas azules); dibujos hechos a cray?n que parecen plasmados por un ni?o de primaria. Daniel Heimbinder nos muestra en ?Fool on a horse?(Un tonto sobre un caballo) la ilusi?n de un jinete con rostro del famoso s?mbolo de Happy face (carita feliz). El detalle del caballo rosado le da un toque singular a la pintura.
In a seemingly naive style W. Tucker recorded in "Elephant head and two blue head? crayon drawings that seem shaped by a child from ?elementary school. Daniel Heimbinder shows us in "Fool on a horse") the illusion of a rider with the famous smile face symbol. The detail of the pink horse gives a unique touch to the painting.
?
A manera de un vitral, Travers Clif ha plasmado en ?Tree? un ?rbol de colores fr?os que capta la atenci?n del espectador. Otras lonas son de gran formato como ?Bird Bath? (Ba?o del p?jaro), trabajo de la artista Kelly Allison realizado en t?cnica mixta y el cual se encuentran adheridas hojas de la Biblia. Ranzy Telley nos muestra el rostro de una anciana que parece mirarnos fijamente desde el fondo negro de la tela.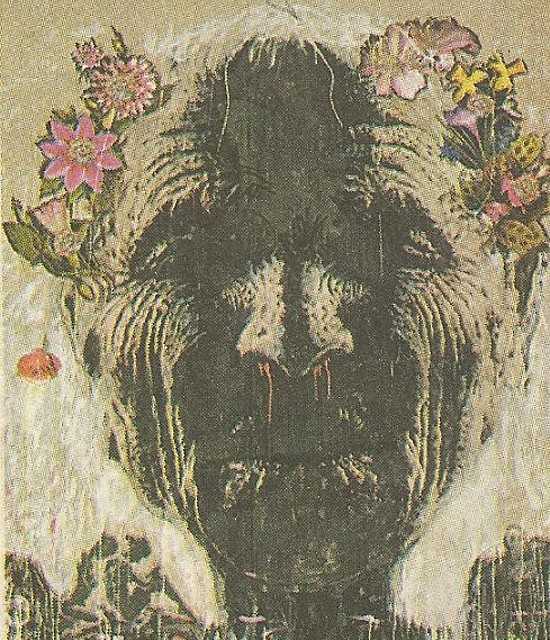 Diferentes tem?ticas
Different themes
By way of a stained glass window, Clif Travers has shaped in "Tree" a tree of cool colors that captures the viewer's attention. Other canvases are large format like "Bird Bath? by artist Kelly Allison made in mixed technic attaching Bible sheets. Ranzy Telley shows the face of an old woman who seems to look at us straight from the black background of the fabric.
?
Tambi?n hay esculturas que completan una exposici?n que merece verse para confrontar ambas realidades art?sticas.
There are also sculptures that complement an exhibition that deserves to be seen to confront both artistic realities.
?
?Tenga en cuenta!
. La exposici?n ?Texas cae en un trozo de tela? se exhibe en el Museo de Arte Moderno (Av. Villareal con Carretera Industrial, Urb. Semirr?stica El Bosque). Hay un bus-tranv?a que sale por las ma?anas del Museo del Juguete (Jir?n Independencia)
. Esta muestra ha sido posible gracias a la dedicaci?n de Gerardo Ch?vez y a la invalorable gesti?n de Wayne Gilbert, artista estadounidense que forma parte de este colectivo
. Va hasta el 10 de noviembre
?
Note!
. The exhibit "Texas falls on a piece of cloth" at the MAM Trujillo (Villareal Av. and Industrial Road, Semirr?stica Urb El Bosque). There is a bus-tram That leaves every the morning from the Toy Museum (Jiron Independencia, block 7)
. This exhibition was made possible thanks to the dedication of Gerardo Chavez and invaluable management of Wayne Gilbert, American artist who is part of this collective.
. Going up to November 10th
-----------------------------------
Por: Luis Fernando Quintanilla
Diario La Industria (31 Octubre 2010, Trujillo, Per?)
Traducido por: Carlos Paredes Abad (translation into English)
?
?
Tags: MAM Trujillo, Gerardo Chavez, Texas exposicion, Luis Fernando Quintanilla